What's in a brand? Is it the types of campaigns you run? The colors of your school? The scope of your college or university might be bigger than you realize.
As Epicosity Creative Director Katie Levitt will tell you, "I think brand perception has a lot more do with – obviously what students and potential students think, but it also has a lot to do with how people see the university or college as a whole." She's been the CD on most of our Higher Education accounts for years; she took the lead with South Dakota State University in 2016 and the University of Pittsburgh at Bradford since 2019.
A brand is more than just saying, "Here's what we offer." It's more, "Here's what we're about." In short, it's the essence of your institution. Yet, ironically, it seems to be something administrations spend little time or money on.
There are three simple and unique ways your college or university can focus and improve your brand perception.
Know Who You Are
Behold the marketing funnel. At the core of any great strategy or campaign, is the brand essence; what's your foundation? Your promise. "If you don't have the one, you have less in the funnel for the other," said Levitt.
"I've noticed that a lot of clients want to go to the middle," she continues, "they want to go straight to recruitment, 'Yeah, people know who we are. Yes, we've got colors and a logo,' but you have to be doing that pre-work to make sure that your brand perception is as focused as it possibly can be."
A great example of brand identity (or essence) comes from our work with South Dakota State University. "At SDSU, it was the outcomes. That's how we developed the 'built by you' campaign because it's about what happens after you leave," Levitt said. Every prospective student seeking a higher education wants to know what they can gain from it.
A focused brand helps you nail who you want to target so, in turn, you can target them correctly. But the next question you have to ask is how to separate yourself from the pack. This brings us into point number two:
In The Higher Ed Ecosystem, You're Not Special… Yet.
"Brand is what people say about you when you're not in the room," Levitt says.
When it comes to marketing in higher education, institutions can often be found floating in what is known as "the sea of sameness." Classic campus photos of students walking with backpacks or playing disc golf plague the higher ed iconography.
"Understanding where everyone else is, especially in your primary competitive landscape is really important," says Levitt.
What's the best way to go about understanding the competition?
"Do a top-level competitive review every couple of years. Look, and see what kinds of messages they're pushing and think about. From the perspective audience you're looking for – whether that's a traditional undergrad or graduate student, what are they seeing? What are they thinking? What are the opportunities?"
It's important that you look at every aspect of the competition from their "about us" pages to their social media even down to the font they use on their website. "It's about positioning yourself off the competition – even in small ways like that," she said.
Levitt also recommends talking to those who already work and attend your university and understand what it is that made it them choose it. She mentions that it's also important to hear from people who don't like your school: "What turned you away?" "What were we missing?" "Why don't you like us?"
Now, hearing why people may not like you isn't so you can change to fit their mold, it will further help you understand your place amongst the sea.
Know if You're Moving the Needle.
"You should strive to suck all subjectivity out of the room when it comes to your brand," says Levitt, "You should invest in enough research, knowledge and understanding that they can really get to the heart of it."
As much as your brand needs to stand out, that's not to say you have to come up with some new, earth-shattering way to change the game every few years. You need to understand what your brand is about and really focus on that. Something that, when you make a new campaign, people not only can relate to but recognize your brand voice.
"[Your brand] should be something that not everyone has to love – in terms of that creative iteration, and they won't, but you also don't want it to be something everyone does love otherwise it won't be compelling either. But everybody needs to understand WHY you did it," Levitt says.
It's important to not create brand whiplash by changing themes, tones, and styles often. Measure your brand every three to five years and adjust as needed.
Don't Be Brand New. Be Brand YOU.
Branding comes way before you create a campaign and put it on a billboard or a run a slick tv spot or social media video. It starts at the core of who you are. Knowing what you're about helps you root everything you do in your culture and nail down what prospective students you're looking for. Keeping a close eye on your competitors will help remind you of why you stand out. And measuring your current course every few years will help you adjust when you need to so you don't veer off track from your core message.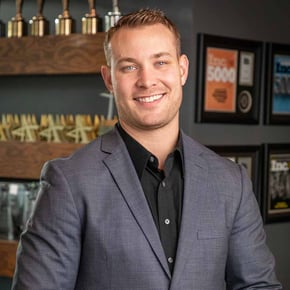 Sam Thorson
Sam specializes in Higher Education marketing strategies. He works hand in hand with university and college admissions and marketing teams to set goals, launch campaigns, and analyze results. With over 7 years of digital, content, and general marketing experience, Sam dedicates himself to connecting modern marketing strategies to higher education institutions.