What's an example of a recruitment journey? As an agency, we force ourselves to base our recruitment strategies on real-life situations. Data, surveys, and research can help us collect all the information we want on a specific audience, but how does all the knowledge get put into practice.
In this series, we'll be illustrating an example of a potential student's "Recruitment Journey" as they learn about, engage with, and become enrolled at a university.
Meet Julia
Julia is a 16-year-old student who lives with her family and three siblings in Gujarat, India.
She wants to come to the United States to study engineering. She has noticed a lack of reliable public transportation in her hometown and wants to give back to her community after earning her degree.
She has a basic grasp of United States geography, but only knows the main airports to fly into are New York and Los Angeles and might not realize all that the Midwest has to offer.
What our Research Says about Julia
Top Personal Values
Family and Community

Julia values her family and community. She has pride in where she is from and is willing to make hard decisions when it comes to helping the people important to her.

Furthering Education

She understands that specialized education is an important part of making a difference. She wants to pursue the knowledge that will help her establish a career in her dream field.

Quality over Easy

Julia is willing to put in the work. She's looking for the best quality in her education. She wants to make sure that the school she chooses will provide her with the knowledge she needs to make a difference.
Top Psychological Drivers
Quality of Life
Helping Others
Top Media Consumption Time & Sources
Averages 20-40 Hours Online / Week
Social Channels include WhatsApp, YouTube, Facebook
Media Consumption Habits: Entertainment, Movies, News
Strategy & Objective
The international audience is approached with two primary marketing objectives - establish first contact & education. In the case of Julia, first contact with our target university occurs through an ad. Because of the geographical size of the targeted country in our international campaigns, the primary advertising channels are Google Search, Google Display, YouTube, and Facebook.
Making an introduction with Julia is an important moment in the relationship she builds with the university. This message needs to be compelling enough to get Julia to visit our website. Once there, we can begin to move to the second objective of the strategy - education.
Because the international audience lacks the knowledge about the school, the state, and the region – the website experience for this persona needs to be educational rather than transactional. It's at this time where articles, videos, Live FAQ sessions, and downloadable content are powerful tools. Finally, we call to action in this stage should be for Julia to "reach out" or "talk to someone" about the university.
Once we've made a positive introduction and provide answers to Julia's biggest questions, we can then begin to encourage Julia to apply. Because of the extra number of steps for the international application process, while Julia is applying, international counselors will maintain constant communication with Julia to make sure she has everything in order to finish her application.
Media Recommendations

Google Search

Targeting – Keywords around college info, college abroad, college in the US, etc.

Facebook / Instagram

Targeting - 15-18, any lists of past international students, key geo areas, etc.

Google Display

Targeting – Retargeting based on site traffic, any international list, audiences built from international pages of other universities, in-market intent for post-secondary/bachelor's degrees

YouTube Pre Roll

Targeting – Audience based intent on traveling to study

Virtual Events

International Q&A sessions

Downloadable Content

Travel Infographic, FAQs, SDSU Facts, View books, etc.

Testimonials

International Alumni from India

Email

Workflow Nurture Emails & Counselor Communication
Julia's Recruitment Journey
Suspect:
Julia has been thinking about going to school in the United States for a long time. She's motivated to earn a degree in order to help her hometown. But even though she likes the idea of studying in the states, she doesn't know where to start. The only thing she knows about America is what she sees on TV and in the news. This means her perception about the country looks very much like a big city - which is scary and intimidating.
Now that Julia is 16, she's beginning to search for school options. As she's searching online, she sees a Google Search ad about our target university. She visits the international pages of the website where she learns about the Civil Engineering program. After she leaves the site, Julia begins to see ads about the school on other platforms as well. She see's ads on social media, banner ads on websites, and video ads on YouTube.
She's interested enough to visit the main website. She navigates to the "Campus Tour" section of the site and watches videos about the university and campus life. She also sees videos from other international students include one student who is also from India.
Prospect:
Julia is interested in the university but doesn't know enough about the state and region to feel like she's ready to apply. It's during this time that Julia sees an online ad promoting a virtual event at the university. This is an open Q&A session with international affairs office. Julia thinks this would be a great time to ask questions, so she registers for the event.
During the Q&A session, Julia is able to ask questions about the school. Once the event is over, she receives an email thanking her for joining the session and also the contact information of an international admissions counselor. Julia reaches out to the counselor to schedule a time to talk.
The counselor helps answer all of Julia's questions and even shares helpful articles about the safety of the campus. She also downloads a PDF that walks through how an international student can travel to the state and city. She even reads about a scholarship program which is a grant to support the education of women from developing countries.
Applicant:
Julia continues to get served ads from the university. She reads more about the region and begins to get excited about pursuing a degree. After giving it thought, she decides to apply, but while she's navigating the application steps, she gets overwhelmed by all the different things she needs to provide.
Julia leaves the application process without submitting.
Because Julia's information exists in the university's CRM, automated workflows are step up to notify counselors when a potential student may need assistance. Because Julia left the application unfinished, the counselor assigned to Julia is notified that she may need help.
The counselor reaches out to Julia via email and walks her through all the steps to apply. Together, they're able to finish the application.
Admit:
Julia is informed about her acceptance into the university through an email with a link to watch a video celebrating her becoming a student. Julia is also added to another automated workflow that regularly delivers her helpful information about attending school, highlights about the region, and what she can do in the city.
Enrolled:
Finally, Julia works with her counselor to sign up for fall classes. They also work closely to organize travel and housing plans as the fall semester approaches.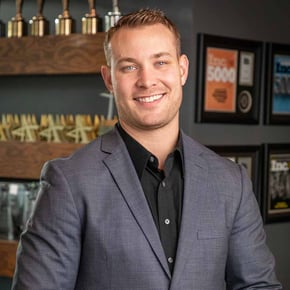 Sam Thorson
Sam specializes in Higher Education marketing strategies. He works hand in hand with university and college admissions and marketing teams to set goals, launch campaigns, and analyze results. With over 7 years of digital, content, and general marketing experience, Sam dedicates himself to connecting modern marketing strategies to higher education institutions.