Individuality is everything to students – especially around the time they transition into young adults. Students looking for the right college or university each have a want, need, and desire. They want to feel heard. They want a connection between you and them and want to be understood.
But this isn't new information.
Your current recruitment strategy is already solid, but every passing year can bring something new to the table. That's even more true for what attracts the prospective student. Now, adapting is key to survival. Knowing what students want isn't as simple as it used to be, and there's a chance you might be overlooking some areas that can take you recruitment abilities the next level: it could be convincing students who haven't thought of higher education, it could be using the wrong keywords online, or maybe you're not putting all your efforts in the right direction.
Here are three major enrollment opportunities your marketing strategy could be missing.
Unaware Students
Many colleges and universities focus on driving engagement through geography-based communication that fails to extend beyond their local reach. The Unaware student has yet to put a name to their school of choice. To put it simply: they're still looking for options.
Usually, the unaware student has NO pre-determined expectations about a university. This stage can come early in their high school career – as early as early sophomore or late freshmen year.
Targeting this demographic involves awareness-based messaging that helps make a soft introduction to students. That means no immediate calls to action like "Apply Now," or "Join Today!" The goal of this stage is to get them interested enough in your college or university to visit your website or social media channels – or even start a personal conversation.
You can try speaking with students directly. Listen and get to know them and what barriers might keep them from making decisions about a college or university. Let university staff visit high schools during college fairs or even call students who haven't enrolled. This is key as it helps emphasize a personal touch with students.
While technology has its benefits, there are students who experience fatigue from a lack of human interaction. Students respond more positively to human connection. While meeting in person might not always be manageable, making a phone call can be just as effective.
Due to the job market being unstable and certain shifts in the economy, more students question the value of a college degree. Prospective students need to understand the value of getting a degree. They need to know that getting a degree opens the doors better career options. This can lead to more confidence in their enrollment decisions.
For those students who are more reliant on technology for their research, you'll really want to take advantage of Search Engine Optimization.
Search Engine Optimization
SEO is constantly changing. Unless your university is evolving with Google's algorithm, fewer and fewer students will be able to find you organically on search engines.
Why is SEO important?
Search engines are an essential tool for modern-day prospective students – it's the most popular way for them to find information. This can also be applied to social media.
"Owning" the organic space related to your college or university on a search engine results page ensures engagement and makes it more difficult for competitors to influence students.
An SEO plan is an organic, long-term strategy – and strategy is the keyword. Before you begin to find ways to attract prospective students, you need to perform an audit on your current methods. Check for keywords that already help your site rank well and which keywords you want to rank high but don't. This helps you develop a strategy as to how you can further optimize well-ranking pages and see what more suitable keywords can help the ones that rank low.
While the right keywords can lead to clicks, the destination has to be worth it.
How user-friendly is your website?
You need to make sure you page is fast, efficient, and mobile friendly – chances are these students will be using their phones to access your site.
When you're looking for your new keywords, let your values guide you. What do you want future students to know about your university? Do you host online courses? What unique degree programs do you offer? These questions will help you find words that relate to questions students are commonly asking. You might already have what they want, this helps you tell them that.
Make sure you optimize your content. It's important to prioritize optimization to your main pages first (i.e., programs or departments) and then work your way to "less vital" pages. Be sure to not oversaturate your keywords. They need to feel organic as too many can hurt content quality and your SEO.
As important as it is to know what prospective students are looking for, it's just as important to know where they are. Through careful and clever targeting tactics, you'll know exactly where and how to implement your SEO strategy and connect with students on their level in a way that feels natural.
Tactic & Channel Targeting
Facebook. Snapchat. YouTube. TikTok. These are all major platforms students use for anything and everything – especially learning information.
According to a study done by the Pew Research Center, most middle and high school age youths have access to a computer (88%) and nearly all teens 13 to 17 have a smartphone (95%).
In 2021, they conducted a study that revealed which online platforms U.S. adults find most popular.
YouTube (81%)
Facebook (69%)
Instagram (40%)
Pinterest (28%)
LinkedIn (28%)
Snapchat (25%)
Twitter (23%)
Since 2018, YouTube has remained steady at the top, while other platforms like Twitter and Facebook have seen a decrease in favor of over rising platforms like Instagram and TikTok.
However, before you decide which channels are worth it, you need to establish who you're trying to reach. This can correlate with the values you're trying to promote. Some platforms, like Facebook, have targeting restrictions that don't allow you to target young teens under 18.
Yet, platforms like TikTok Snapchat, and Spotify do allow for this.
Today, early engagement is critical in a high-school student's decision-making process. Sometimes, they don't know where to go or have any expectations. This is your chance to create expectations and generate excitement from a group that might be feeling lost or uncertain.
On top of that, make sure you're offering them what they're looking for. Comparing what they want with what you're promoting will create several advantages when it comes to highlighting what you offer. While some social media channels are limiting who you can target, there are still strong candidates that can help reach your young adult audience effectively.
Every college & university has a recruitment campaign, the difference between them comes from messaging, targeting, and engagement with their target audience. This is your chance to create strong, focused and effective messaging to your potential future students.
If you'd like to learn more about how to create a comprehensive student recruitment campaign, download our Higher Education Student Recruitment Report here.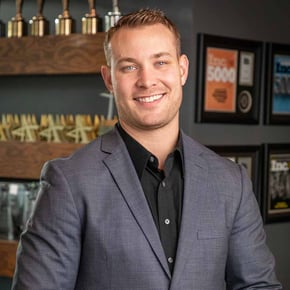 Sam Thorson
Sam specializes in Higher Education marketing strategies. He works hand in hand with university and college admissions and marketing teams to set goals, launch campaigns, and analyze results. With over 7 years of digital, content, and general marketing experience, Sam dedicates himself to connecting modern marketing strategies to higher education institutions.