What's an example of a recruitment journey? As an agency, we force ourselves to base our recruitment strategies on real-life situations. Data, surveys, and research can help us collect all the information we want on a specific audience, but how does all the knowledge get put into practice.
In this series, we'll be illustrating an example of a potential student's "Recruitment Journey" as they learn about, engage with, and become enrolled at a university.
Meet Rebecca
Rebecca is a 15-year-old sophomore in a small to mid-size city. She attends a public high school and is showing interest in programs such as math and chemistry.
She enjoyed her technical education course last year as a freshman, and so far in her fall semester has found her Algebra II class to be a fun break in the day of high school life.
Her mom is working as an elementary school teacher in the city's metro, and her dad works at a local construction company as a project lead.
What our Research Says about Rebecca
Top Personal Values
Friends & Family
Rebecca values the time she spends with her friends and family. She looks for opportunities to have fun and interact with her close group of contacts.
Social Experience (In-person vs. virtual)
Much of Rebecca's 8th grade was spent online. She experienced the challenges of distance learning. She also saw her mother struggle with the challenges of teaching remotely. As a result, Rebecca values the in-person learning experience.
Career Planning

Now a Sophomore, Rebecca is thinking about the future. She understands that she has time, but also wants to make sure that she has a good plan going into college planning.
Top Psychological Drivers
Reputation

Mental Wellness

Brand
Top Media Consumption Time & Sources
Averages 30-50 Hours Online / Week

Social Channels include TikTok, YouTube, Instagram

TV Channels include Netflix, Amazon Prime, Hulu
Strategy & Objective
Rebecca's persona represents one of the most crucial undergraduate audience. She is late enough in the recruitment lifecycle where she is taking college seriously, but early enough where she is also still willing to learn about other schools. For this reason, maintaining a constant presence in the local high school is a priority. We're able to accomplish this through year-round geofencing campaigns, frequent recruiter visits, senior screen buys, and event sponsorships and relationships.
The primary objective for Rebecca's persona is nurturing, specifically through experiences. For this reason, event sponsorships like community events and school activities. Additionally, the value of providing high school counselors with tools & material creates more clear pathways to our university.
Next, with Rebecca being under the age of 18 and her high weekly online commitment, the marketing campaign for Rebecca must take advantage of platforms that 1) allows for the necessary age targeting and 2) are where she spends most of her time. For this reason, the strategy puts emphasis on digital channels such as TikTok, YouTube, Snapchat, and Spotify.
We can also leverage purchased lists and predictive look-a-like audience targeting to identify the best message for Rebecca.
Media Recommendations

TikTok

Targeting – 13-17, Interests: Higher Education/College, list targeting? (TBD – TikTok currently testing with lists, N/A currently)

Snapchat

Targeting – 15-18, Prospect List, prospect list lookalikes, admitted list lookalikes

Facebook / Instagram

Targeting - 15-18, Prospect List, prospect list lookalikes, admitted list lookalikes

Spotify

Concept Spot (We're able to target under 18)

YouTube Pre Roll

Concept Spot 0:15 cutdown

OTT

Targeting – Targeting the Household level, so that we are hitting ALL devices of people who have children 15-17 in the household within the geo, prospect list – extra cost)

Geofencing

12-month Geofencing campaigns around each Sioux Falls High School

Google Search

Targeting – Keywords around college info, resources, etc.

Google Responsive Display

Targeting – Retargeting based on site traffic, prospect list, prospect list – similar audiences, admitted list – similar audience, audience built from admission pages of other universities.

Text Messages

Messages about upcoming events, scholarship opportunities, etc.

Influencers

TikTok and Instagram Influencers

Email

The use of workflows and direct emails from admissions counselors.

Senior Screens

Regular senior screen updates in the Sioux Falls Schools
Rebecca's Recruitment Journey
Suspect:
It's a beautiful Friday night in September and Rebecca is on her way to watch her high school football team take on their rivals. On their way to the game, Rebecca starts getting messages on Snapchat from a few of her friends that are already at the game. The snaps are of her friends wearing bandanas that they got from a booth at the game. When they get dropped off at the game, Rebecca makes her way to the booth to get her own bandana.
She notices that the booth handing out the swag is from the local university. Growing up in the city, Rebecca is very aware of the university - she remembers going to the campus when she was in middle school. When she's at the booth, she talks to the reps and fills out a contact form to get her swag.
Prospect:
Throughout her sophomore year, the local university maintains contact with Rebecca through many different channels. She sees the university's messaging on the senior screens in her school and even gets served ads on her phone. Rebecca also begins to spend a lot of time with her school counselor as she plans for college. The counselor has a lot of great information to share about the university including websites, handouts, and even the contact information of a professor who teaches at the school that she can email with questions about classes she'd like to learn more about.
This communication is all part of the university's marketing campaign for young, local, high school students. Year-long senior screen buys ensure that the university's awareness is always present in the schools. Additionally, the university launched a 12-month geofencing campaign where we've set up digital fences around all the local high schools. This campaign serves students ads on their mobile phone throughout the year.
Lastly, the university's "Counselor Kit" campaign is a direct mail and website campaign designed to build relationships with the high school counselors in the area. Part of the campaign includes sending information kits to counselors to help them better connect students with college advisors.
Applicant:
At the beginning of Rebecca's Junior year, she takes her ACT. She also begins applying to colleges. It's at this time that the awareness messaging that Rebecca has received over the last 12-15 months takes full effect. She now receives more "fact-based" messaging that highlights the university's value. This includes digital ads promoting key programs, the High School Dual Credit options, and more value proposition messaging. Rebecca also receives direct mail pieces highlighting all the benefits of an education from this university.
She spends the next summer thinking about where she wants to go and when school starts again, Rebecca kicks off her Senior year by applying to the university. Even though the local university is her first choice, she also applies to two other schools as backups.
Admit:
In September, Rebecca finds out she's been accepted to the local university with an email. The email includes a link to watch a video welcoming her to the university family. She's so excited that she runs home to show her mom and dad the video. When she gets home, her mom tells her that she also received a letter from school. Rebecca opens the letter to find more university fun accepted material.
NOTE: Rebecca was also accepted into her backup schools as well.
Enrolled:
As she starts the second semester of her senior year, Rebecca is relieved that she's already been accepted into three schools, now she needs to decide which one she wants to attend. Over the next couple of months, Rebecca continues to receive messages about the local university. Specifically, when she sees their ads, they're emotional… The ads remind Rebecca of why she wanted to apply there in the first place.
She's also been in close contact with an admissions counselor at the university. Through list segmentation within the CRM, the counselor was able to see that Rebecca still hasn't filled out her housing application. The counselor places Rebecca's contact information into a marketing list that triggers an email workflow that sends students helpful reminders about upcoming deadlines and next steps.
As they enter spring, Rebecca begins to see more university ads talking about New Student Orientation. She also receives a text message from her admissions counselor letting her know that they can't wait to see her when classes start.
Rebecca registers for orientation and attends the event. She would go on to enroll in classes for the fall semester.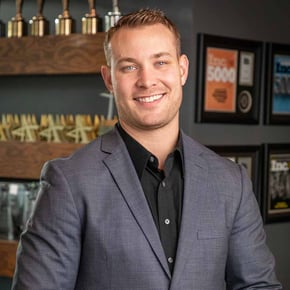 Sam Thorson
Sam specializes in Higher Education marketing strategies. He works hand in hand with university and college admissions and marketing teams to set goals, launch campaigns, and analyze results. With over 7 years of digital, content, and general marketing experience, Sam dedicates himself to connecting modern marketing strategies to higher education institutions.