Digital marketing is one of the most powerful communication and targeting tools for colleges and universities. This is evident by the budget shift to digital compared to traditional marketing channels. Today, higher education institutions spend more on digital marketing then they ever have in history.
With the digital marketing landscape wide open, many schools have questions about the sometimes-overwhelming capabilities of digital adverting. In the past, "digital marketing" meant running ads on Google and Facebook. In today's modern marketing mix, Google and Facebook are own two players in a much larger game.
This article will break down some of the best digital marketing tactics for colleges and universities.
TikTok for Higher Education
Since its introduction into the social media landscape, TikTok has revolutionized "Video Advertising".
A 2020 survey found that while 92% of high school students said they use TikTok, only 1.9% of Higher Ed Marketers are advertising on the platform. This creates a huge opportunity for universities to connect with potential students.
TikTok has the ability to target people under the age of 18. This is a targeting feature not available on every platform.
Research from our own TikTok campaigns found that a TikTok ad produces more impressions and clicks than Instagram or Snapchat.
On average, a TikTok campaign will have a higher CTR and a lower CPM than other social platforms (i.e. Instagram, Facebook, and Snapchat).
Epicosity utilizes all of TikTok ad formats including "In-feed Ads" and "Spark Ads."
Snapchat for Higher Education
Continuing with vertical video placements, Snapchat hosts an enormous active use base that can be leveraged to target high school students.
Epicosity utilizes Snapchat in all of our prospective student recruitment campaigns. The platform has over 100 million daily users. Nearly half (45%) of Snapchat users are between the ages of 18-24. Additionally, 77% of college students say they use Snapchat at least once a day.
Similar to TikTok, Snapchat also has the ability to target people under the age of 18. This is a targeting feature not available on every platform.
Snapchat's ad formats share many similarities to other vertical format placements. This means that vertical video assets can be used on multiple platforms including TikTok, Snapchat, Stories, and more.
YouTube for Higher Education
YouTube is one of the most engaged with websites in the world. With over 2 billion monthly users, YouTube is the second most popular website in the world. It is also the second-largest search engine behind Google.
Because YouTube is owned by Google, advertising on YouTube is a great way to round out a recruitment campaign that includes SEM and Display.
More than 70% of YouTube content is watched on mobile devices. Our campaigns are able to target devices based on where the ads will be watched.
YouTube reaches more 18-34 year old's than any other TV network.
Potential students will use YouTube as a tool in their decision-making process. This is why marketing on the platform is a great way to connect with individuals at the right time. (i.e. enrollment steps, housing applications, campus life, and clubs.)
Spotify for Higher Education
People listening to streaming radio continues to grow exponentially. Not the active user base, which exceeds 170 million, but the advertising platform itself continues to evolve with better targeting and placement options.
Spotify and streaming radio ads are a staple ad placement for Epicosity's Higher Ed recruitment campaigns for a number of reasons.
As with TikTok and Snapchat, Spotify also allows for under 18 targeting options. This means that we can target prospective students at an early stage of college awareness.
Spotify's ad platforms has recently offered Video Ads as an available ad format. Today, video assets can be used in many different places, including primarily audio platforms.
Spotify has also introduced podcasts on its platform. This is a great benefit for marketers because we're able to target based on more listening preferences including age, music, and podcast interests.
OTT for Higher Education
Over-the-Top advertising (OTT) continues to gain following from all ages. With the rise of streaming video content like Hulu, Netflix, Disney+, and more – people are more willing to cut the cable cord.
Advertising on OTT gives a marketing campaign the exposer of a traditional broadcast spot with the added value of digital target. Today, we can track and attribute success to our awareness campaigns by using OTT advertising.
Shorter ad breaks with OTT means higher completion rates for your campaign. Compared to traditional TV, when someone is served an ad, they might change the channel. OTT's ad breaks are typically shorter, meaning people are more likely to stay and watch the entire ad.
Better targeting – Today, we can leverage the benefits of digital targeting to message to a select group of individuals based on a number of different criteria. This increases the quality of your marketing and creates a better connection to potential students.
Instagram for Higher Education
While other platforms like Facebook have slowly begun to transition to an older audience, Instagram remains one of the primary social channels for young adults 18-25 years old.
Not only is the platforms a great place to connect with prospective students, the platform continues to evolve its advertising platform. Today, Instagram ads can include In-feed Ads, Video Ads, and Story Ads.
Benefits of Instagram:
List targeting capabilities – Because Instagram is owned by Facebook, contact lists are able to be uploaded into the ads manager and targeted with messaging.
Story / Reel Advertising – Instagram's development of "Reels" and their use of "Stories" make video content a power resource for a student campaign. Epicosity is able to use vertical videos on multiple platforms thanks to the flexible editing process from our video department.
Facebook for Higher Education
While the primary audience for Facebook is getting older, serving ads on the platform remains one of the best social media marketing components of a campaign.
Today, Epicosity uses Facebook's many different types of ad formats to engage with different target audience groups. Specifically, we've found that utilizing Facebook for "Parent or Alumni" campaigns can generate significant results.
Benefits to Facebook
Robust Ad Manager – Because Facebook was one of the first to offer advertising, the ad manager is easy to work with and has the ability to handle large and complex marketing campaigns.
Multiple Content Formats – Facebook allows for links, images, videos, live broadcasts, events, and more. All these formats can be leveraged in different ways for a marketing campaign.
Cost-Efficient Marketing – Whether the campaign calls for Facebook Ads or Boosted Posts, Facebook's ad manager offers many options to make sure that any budget can see success on the platform.
LinkedIn for Higher Education
While LinkedIn is often thought of as a professional networking platform, it also offers extensive advertising options that can be used for Higher Education recruitment campaigns.
Epicosity has leveraged a number of different LinkedIn ad types for Higher Education campaigns including – program promotion campaigns, In-mail campaigns, and more.
Benefits of LinkedIn Advertising:
Job Title Targeting – LinkedIn is one of the few social platforms that allow marketers to target based on job titles. While this might not see useful for undergraduate campaigns, it is greatly beneficial for graduate and continued learning campaigns.
In-mail Ads – similar to email marketing, LinkedIn's "In-Mail" ads look and feel like personalized emails from universities. These are a great way to build a strong relationship with potential students.
Social Influencers for Higher Education
The social media influencer explosion was made popular by platforms like Instagram and YouTube. It was on these platforms that individuals began creating content that would directly influence the decision of people looking for answers.
Since then, a number of colleges and universities have leveraged the power of social influencers by creating a team of people who are paid to represent certain aspects of the school. These Influencer Teams have proven to be a powerful recruitment tool for schools looking to engage with new students.
Benefits of Social Media Influencers:
Unique Perspective – because influencers create their own content, schools are able to create fun and unique content that connect to new students through the people they choose to follow on social media.
Social Media Engagement – while some students might not be ready to reach out to a school for answers, they could feel more comfortable reaching out to an influencer. Many times, a potential student will comment or DM an influencer with questions. These questions can then be passed along to representatives of the school.
Testing Platforms for Higher Education
The digital marketing landscape is one that is constantly changing. These changes can take the shape of new targeting options for a platform or maybe a new type of ad of a certain social platform. As we saw with TikTok, sometimes these changes can be the introduction of a brand-new social media platform where everyone is trying to be the first ones to have a presence.
Epicosity stays up to date on all these developments through several processes and best practices. This ensures that whenever a new, emerging advertising opportunity presents itself, we are ready to present an agile marketing recommendation to the client.
Ways Epicosity stays up to date on Marketing Opportunities:
Digital Specialist – our digital specialists and media coordinators personally handle each and every campaign. This means that they are in every ad manager. The constant contact with the campaigns means they're always on the lookout for potential optimizations.
Epicosity Intelligence Engine – Epicosity utilizes exclusive research tools to follow marketing and audience trends. These insights fuel our strategy recommendations and inform us on new opportunities.
Testing Budget – In order to make sure that we can be agile with our recommendations, even if we're in the middle of a campaign, we always allocate a small portion of the media budget for "Testing". This budget is specifically held for emerging technology or marketing opportunities. This way, budget is always at the ready whenever an opportunity presents itself.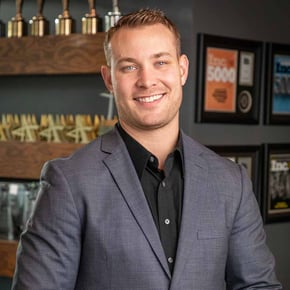 Sam Thorson
Sam specializes in Higher Education marketing strategies. He works hand in hand with university and college admissions and marketing teams to set goals, launch campaigns, and analyze results. With over 7 years of digital, content, and general marketing experience, Sam dedicates himself to connecting modern marketing strategies to higher education institutions.